And At These Fine Independent Bookstores:
Los Angeles: Skylight Books, 1818 N. Vermont Ave.
Los Angeles: Book Soup, 8818 Sunset Blvd.
Long Beach: Gatsby Books, 5535 E. Spring St.
Ventura: Bank of Books, 748 E. Main St.
San Francisco: Green Apple Books, 506 Clement St.
Cleveland: Visible Voice Bookstore, 1023 Kenilworth Ave.



Get it for the Amazon Kindle

Get it for the Apple iPad

Get it for the Barnes & Noble Nook

Get it for the Kobo Reader




Let your Two Performance Artists freak flag fly! We've got customizable men's and women's T-shirts & trucker hats—change the style, color, and size to fit your taste! And if you love performance art, don't miss our PERFORMANCE ARTISTS DO IT WITH DUCT TAPE bumper sticker!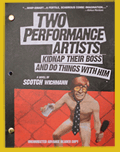 Six months before Two Performance Artists was printed, we did a private short run of advance reader rough galley proofs for distribution to reviewers and editors. Fewer than 250 of these handsome babies remain—once they're gone, that's it. Similar in size to a film script, each galley is three-hole punched, bound by hand with brass brads, signed by Scotch, and numbered out of 250.

Also includes a flyer handout from Scotch's Shia LaBeouf protest in L.A. (while supplies last), and a Two Performance Artists bookmark.